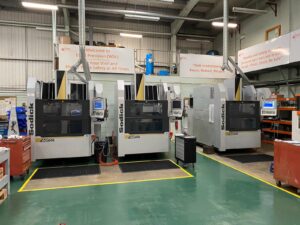 Thanks to our dedicated, hardworking staff our business continues to grow, even through these torrid times. Consequently, as is our commitment to our customers, our investment in the business continues to grow.
Today sees us place a new order for another new Sodick AG60L spark erosion machine. This machine will be installed in our Gloucester branch over the next few days. This new addition to our capacity increases the number of CNC EDM machines we have across the Group to 33 and is designed to increase our throughput and reduce our lead-times.
UK Manufacturing is the key to building the foundations of the economic recovery post COVID, not to mention enabling us to stand on our own two feet post Brexit. The Manufacturing sector is the only sector currently contributing to UK GDP and the UK government must offer more support to UK manufacturers, firstly to ensure their survival, and secondly to allow them to grow now and into the future. This action will manufacturers to create real jobs, with real skills and to create real value for UK PLC.